Condos
West Maui Screaming Deal: Direct Oceanfront 3 Bedroom Vacation Rental at Papakea Resort
A new property listing at the very popular Papakea Resort in upper West Maui just hit the market today and with its two full bedrooms plus sleeping loft, there is no question that this is one of the best deals in the marketplace right now. I represent many buyers and sellers on short term vacation rental properties, I own a top-performing short term rental at Honua Kai, and my team and I manage a select portfolio of vacation rentals from Wailea to Kapalua — this property is an absolute winner in my opinion.
Papakea A-403 Just Listed at the Papakea Resort in Honokowai Maui
Papakea is one of my very favorite resorts in all of West Maui — it is located just makai side of my home in Kaanapali Coffee Farms as you can see above and really serves as the border between North Kaanapali and Honokowai. The grounds at Papakea are absolutely immaculate and conducive to having a lot of fun with the putting greens, koi ponds, shuffleboard, and pool pavilions interspersed throughout the resort. Papakea features studio/1 ba., 1bd./1ba., 2bd./2ba, 3bd./2ba, and 3bd/3ba residences. All of the 3 bedrooms are technically permitted as 2 bedroom units with lofts, and some of the owners have installed an additional bathroom upstairs, but the HOA is no longer permitting this.
Why is Papakea A-403 So Special? 
It's effectively a 3 bedroom — these are extremely rare to come on the market at this price point- most 3 bedroom or 2 bedroom with lofts are multi-million dollar assets. This residence is a top-floor direct oceanfront home that has been partially remodeled (please see my video below, and we can discuss further targeted property enhancements).
There is room to build sweat equity in this property — the sellers have done a fair amount of work, but I believe with some targeted enhancements, this property could be a real stand outperformer.
The view and location are spectacular — from this particular home, you have unobstructed views of both Molokai and Lanai, front row seats to epic whale watching, and year-round sunsets. It truly doesn't get better than this.
Papakea A-403 Full Length Video
Maui Vacation Rental Financial Performance
I do have the actual rental performance numbers for Papakea A-403, which is currently being run by the owners and thus is not truly a professional operation. The sellers are doing a pretty decent job with the gross income figures approaching $100K per year which is close to the 10% rule that I like to employ when my clients are looking for a strong financial vacation rental property. With a few refinements and more effective professional management, like we offer- I feel very confident that reaching at least the 10% rule for this property is well within reach.
To substantiate this, please take a look at a report that I just ran on a very similar property that we are currently managing, Nohonani 403 Vacation Rental. This is the first full year that my clients have owned this property and has been in our portfolio (by the way, this client contacted me off of my blog to start the process, hint hint :). We have hit the 10% rule for them in our very first year and year two is looking even more promising as we are now substantially raising the rates on the property based off the present momentum that we have. This is all with the owners occupying the property for over 60 nights per year in 2019 which at our current YTD current ADR (Average Daily Rate) of $445 per night (just owner revenue, not taxes or fees) adds up to another $26K in potential revenue.
I would be happy to provide you will a full financial spreadsheet of this property, just reach out to me directly and we will make it happen.
Papakea Vacation Rentals Offered by Hawaii Life Vacations
Want to try Papakea on for size before investing? Stice Vacation Rentals offered by Hawaii Life Vacations. To become better acquainted with our local properties, I invite many of our clients to try them out before deciding to purchase. We have two great offerings at Papakea listed below and if you would like to peruse our entire portfolio please do so here:
Papakea Historical Sales Data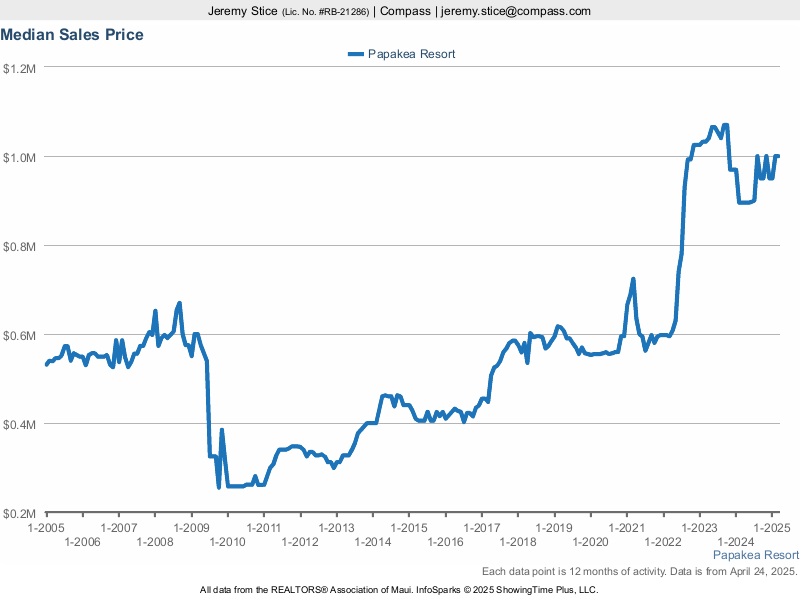 Here is just a quick historical snapshot of Papakea's market performance (the entire complex), I am happy to provide more detailed data as it pertains to Days on Market, Price/Sq.Ft., Sold vs. Listing Price, etc.
Watching over your West Maui Assets from Up the Hill
Jeremy Stice R(B) at Your Service
As the director of Hawaii Life's West Maui Vacation Rental portfolio and one of Hawaii Life's top-selling Brokers, my team and I are here at your service. I was born and raised here in Maui, am a third generation Realtor, and my wife and I have called West Maui home for the last 10 years and enjoy sharing our passion for it with all who are interested. I make a commitment to pick up my cell phone as best as I can, return voicemails, text messages, and email in a timely fashion. I also work 7 days a week so feel free to call me anytime you need me. However, if I am busy at the time, I will get back to you shortly. I am here at your service, I look forward to sharing my passion and expertise with you. Want to follow my blog via email updates? Please enter it below. This will not be used for any other reason than automatic blog updates that I post. Subscribe to the Jeremy Stice Blog Roll Here 
You might also be interested in these past articles: