Maui
Wailea/Makena Maui – 6 Month Market Update October 2017
Wailea Maui – it's a private community located at the south end of Kihei, along Maui's sunny south shore. This world-class destination is comprised of single-family homes and condos, 5-star hotels and resorts, and luxury shopping and dining. With beautiful sandy beaches, numerous golf courses, and almost perfect weather year-round, Wailea appeals to everyone for a relaxing vacation. Many people from across the country and around the world own vacation homes in Wailea and Makena. You can too, as there are no restrictions on foreign ownership.
This report looks at just the residential sales of houses, NO condos or vacant land. To clarify, the CPR properties included here come with their own deeded land which makes them distinct from true condominiums.
A beautiful Makena Maui sunset
What's been selling in Wailea/Makena on Maui's south shore in the past 6 months?
11 closed sales priced from $1,250,000 to $9,550,000 since May 1 2017
Average sale price of $3,883,181  and median sale price of $1,925,000
Days on Market ranged from 12 to 433, with average of 212 days and median of 166 days
Every home sold in Wailea had a swimming pool
None were bank owned or short sales
2 were CPR (condominium property regime) homes
Lowest price was for a 3BD/3.5 BA home in the Wailea Kialoa subdivision, sold in 294 days
Highest price was for an oceanfront CPR home with 4BD/4.5BA in Makena Place
Wailea Kialoa, Wailea Pualani and Wailea Golf Estates dominated with 7 total sales combined
2 listings were oceanfront, and of course, they brought the highest sale prices
What's for sale now in Wailea and Makena?
35 total listings, with 32 Active and 3 Pending – priced from $1,375,000 to $26,995,000
DOM ranges from 0 to 672, with average of 190 days and median of 115 days
1 is bank owned priced at $1,498,000 in Wailea Pualani,  none are short sales
2 are beachfront CPR homes in Maluhia, and 1 is an oceanfront 5BD/5.5BA home
Lowest price will buy you a 2-story 3BD/3BA home in Wailea Pualani built in 2005
Highest price will buy you an oversized 8BD/8BA home on 1 acre across from the ocean in Makena
Year built ranges from 1977 (Wailea Fairway Estates) to 2018 (Wailea Golf Estates)
Almost every listing has a swimming pool and spa, but 3 homes don't
The absorption rate means there's plenty of housing inventory, a buyer's market
Poolside at 7131 Makena Rd.
This chart shows the number of closed sales by month over a 3 year period.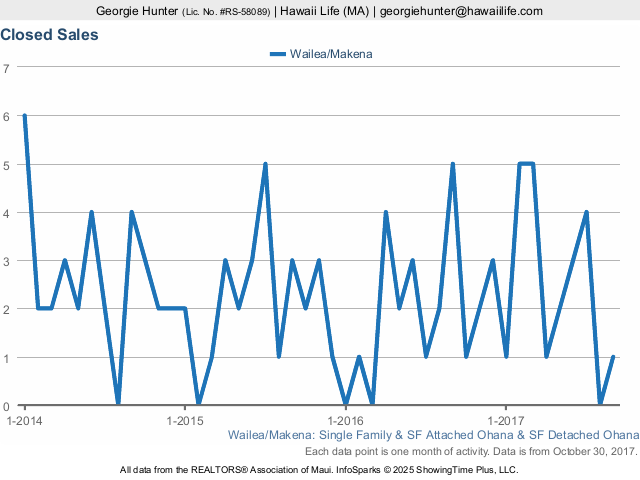 Thanks for reading my Wailea/Makena market report. Please let me know if you have any questions. Are you interested in buying or selling?
Georgie Hunter R(S) e-Pro, Hawai'i Life Real Estate Brokers
127 Hana Hwy. #G, Paia HI 96779
direct: 808 283-0635
georgiehunter@hawaiilife.com