Maui
For Sale – Stunning One Bedroom Mahana at Kaanapali Vacation Rental
I'm always on the lookout for great deals and beautiful properties for both myself and my clients to invest in. My latest pick is at one of my very favorite West Maui vacation rental buildings, the Mahana at Kaanapali. Mahana at Kaanapali vacation rental condos have an unparalleled location, breathtaking views, and very consistent short term rental income.
Your typical yet priceless ocean view that you experience from almost all Mahana residences. 
The Mahana at Kaanapali Vacation Rental Unit #407 was just recently listed for $899K, and I think represents very strong value considering its: priceless view, irreplaceable location, and impeccable remodel. I usually stray a bit more to the contemporary side for design and finishes, but this one really does a great job of timeless Hawaiiana.
Because I don't like to regurgitate our MLS, please check out the link that I have for the property below.
Mahana #407 Just Listed- Property Details and all photos here

What Makes The Mahana So Special and Unique?
The Mahana, meaning "Twins" in Hawaiian, was constructed in 1975 and has truly developed it into a special place that is defined as much by the incredible warmth of the sense of Ohana and Aloha amongst the owner community as its stunning natural beauty. The Mahana has a very private and serene feeling. The owner demographic is mature and enjoys the serenity and relative privacy of the location rather than say the neighboring Honua Kai, Papakea, and Ka'anapali Shores resorts, which are more oriented towards younger individuals and those with young children. A Mahana at Kaanapali Vacation Rental is a good investment.
A Mahana at Kaanapali Vacation Rental is so close to the water that it sometimes feel like you are going to fall in. With current zoning regulations increasing shoreline setbacks on the building – The Mahana is simply irreplaceable. We are not making any more beachfront property here on Maui and this is as good as it gets.
Last year I blogged about 2 great deals at the Mahana that sat on the market much longer than I thought they would have but did eventually sell. These worth both in pretty original condition. I think unit #407 will sell much quicker despite it's premium due to the immaculate remodel. A Mahana at Kaanapali Vacation Rental offers great value.
Mahana #407 Video Tour
Income vs. Cost Figures at the Mahana
Because we rent two different one bedroom vacation rentals Mahana at Kaanapali properties, I am expertly qualified to share this information with you. This particular property is currently rented out by the front desk rental program at the Mahana- we are outperforming the front desk by about 30% or so when it comes to net rental income proceeds, our properties are in fantastic condition, and we have stellar reviews.
In the first quarter of 2018, for Mahana #608 (similar level of finish and location) we did roughly 97% occupancy and almost $34K in gross rental income. As of this blog publish date in mid-March, we have done a total of 21 bookings so far with about $53,000 in gross rental income in 2018. We typically average something in the 40-45 total stays per range for these types of properties, but I think we may even exceed these levels this year. A Mahana at Kaanapali Vacation Rental makes sense.
Some prior posts that I have written on subject matters:
Mahana at Kaanapali Vacation Rental One Bedroom Sales Market Update
Historical Mahana One Bedroom Average Sold Prices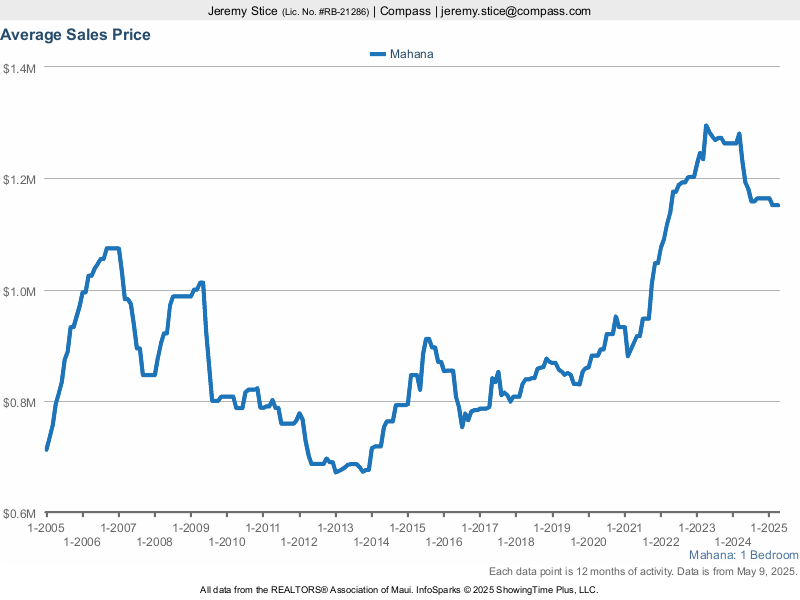 Historical Mahana One Bedroom Average Sold Price/Sq.Ft. of Interior Living Area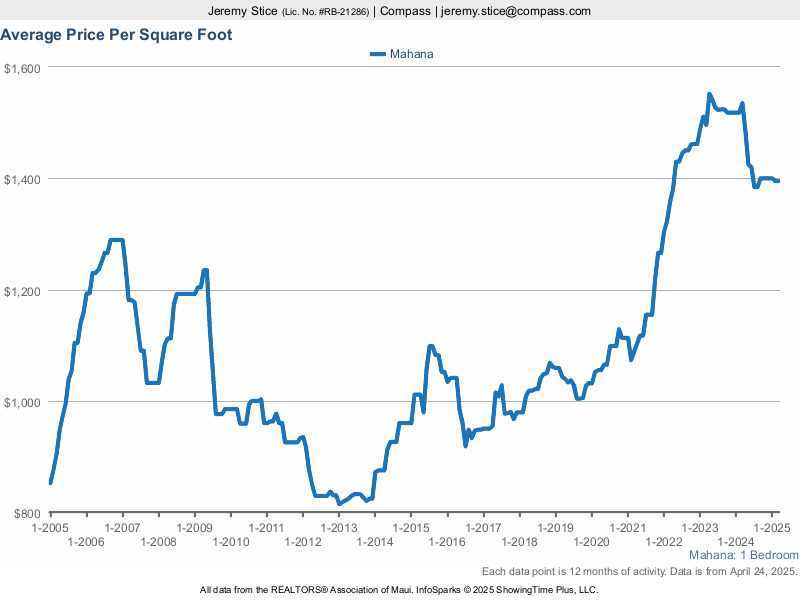 These are the actual closing figures of the most recent one bedroom sales:
Unit #208 1bd/1ba closed Mar 2018 at $827k
Unit #216 1 bd/1ba closed Dec 2017 at $860k
Unit #317 1bd/1ba closed Nov 2017 at $740k
Unit #716 1bd/1ba closed Oct 2017 at $850k
Unit #215 1bd/2ba closed Sept 2017 at $835k
Financially Sound Condominium Complex, The Mahana At Kaanapali Is In Solid Physical Condition
The board at the Mahana prides itself on responsibly operating and running the complex. There are healthy financial reserves, the building is in excellent condition and very attractive physical condition, and the grounds are well groomed and beautiful. There is constant vigilance exercised keeping the building secure and no pending assessments in the current or foreseeable future.
The Mahana's physical buildings are in great condition, they just recently installed all new aluminum frame exterior doors on all of the units with some of the owners electing to go for a beautiful etched privacy glass finish as well. The only current project still looming that I am aware of is that they will be replacing the railings on the exterior lanais this year.
One of my more recent seller clients noted that "the Mahana is in the sweet spot now."
Stay, Play, and Invest at the Mahana
If you are considering investing at the Mahana, I kindly invite you to stay at one of our two spectacular one bedroom rentals that we are currently offering. We will be adding to our portfolio here in the relatively near future.
Mahana #718  is featured in the video above and the rental site can be found here.
Mahana #608 is located two floors above and vertical stack over from Mahana #407 and thus has a very similar location within the building.