Market Trends
Paia Maui HI 96779 – Residential Sales Update October 2017
Paia Maui HI 96779 — Everyone wants a piece of Maui's little surfer town on the north shore. With lots of beaches, trendy shops and restaurants, and a casual fun vibe, you'll understand, and soon be part of the crowd that wants to own a home in Paia. What can you expect in the residential real estate market—what's it going to cost to be one of the cool kids in town?
What sold in Paia in the past 12 months:
24 residential listings priced from $500,000 to $16,000,000
lowest price: 514 Pahika St, a 3BD/3BA home in Skill Village
highest price: 600 Stable Rd, large 2BD/2.5BA beachfront home on 2.8 CPR acres
average sale price was $2,311,204 and median sale price was $807,500
Days on Market ranged from 44 to 1003, average DOM was 201, median DOM was 73
19 were single homes, 4 sales were house and detached ohana, 1 was house with attached ohana
land size varied from 5,600 sq. ft. up to 2.8 acres
2 homes were CPR properties
none were short sales or bank-owned homes
6 listings were oceanfront/beachfront, priced from $3,300,000 to $16,000,000
3 homes had swimming pools
year built ranged from 1923 to 2008, with 12 homes from the '80s and '90s
over half the purchases were with cash, especially the really high priced ones
Here's a simple chart showing 3 years of sales activity by month…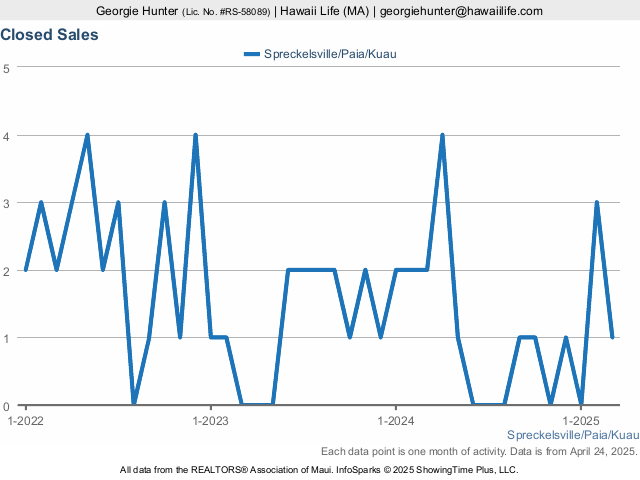 There are no months that are better than others as this is a very strong market at any time of year.
And the following chart shows the median sale price mapped out over 3 years, by month…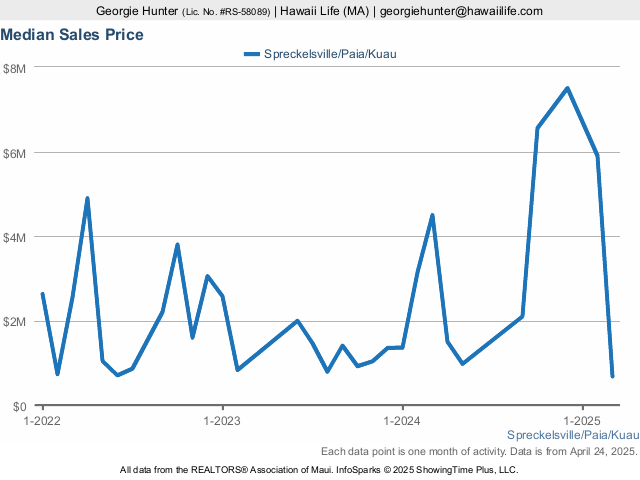 As you can see, one extremely high oceanfront sale will kind of throw the numbers out of whack, but there's no denying those sales, and they are increasing of late. The north shore oceanfront is where the windsurfers and kite boarders want to be, and if you can afford the high prices, then why not?
OK, so what's for sale now in Paia, Spreckelsville, and Kuau:
17 total listings for sale: 12 Active and 5 Pending, priced from $485,000 to $7,900,000
6 listings are priced under $900,000 and 4 of those are Pending
lowest price: a short sale 2BD/1.5BA home in Skill Village
highest price: an oceanfront 4BD/5BA home that's been on and off the market since 2005
12 are single homes, 4 are house and cottage, and 1 is house with attached ohana
land size varies from 6,164 sq. ft. to over 1 acre
7 are oceanfront/beachfront and 1 of these is pending
One of the newer listings is this 1.1 acre of oceanfront land with a couple of remodeled homes, pictured below.
Whether you're a buyer for north shore real estate, or a homeowner looking to sell, I'm here to help so don't be shy. Please contact me today and we'll get the conversation started.
Georgie Hunter R(S) e-Pro, Hawai'i Life Real Estate Brokers
127 Hana Hwy. #G, Paia HI 96779
direct: 808 283-0635
georgiehunter@hawaiilife.com