Military
Talk Story #21 – Hawaii Honors Many on Memorial Day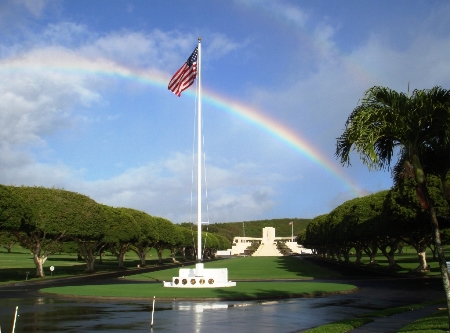 In the middle of the Pacific Ocean, our lovely island state of Hawaii has a high military presence, and naturally, the observance of Memorial Day has special meanings.
The renowned and most unique National Cemetery of the Pacific is located in the middle of a volcanic crater called Puowaina, or Punchbowl, for its shape, and is commonly known as the Hill of Sacrifice, a fitting place for The Annual Mayor's Memorial Day Ceremony.
Special ceremonies are also held throughout the other islands. Not to be forgotten, and just as important, are the smaller State Veterans Cemeteries and the various monuments honoring those who have made the ultimate sacrifice. I hope you are able to attend, or visit these locations while here, or on your next visit.
Another meaningful memorial event on Oahu is an Asian spiritual tradition that beautifully symbolizes the wish for all beings to live in peaceful coexistence.
The Lantern Floating Festival is held on Magic Island and at Ala Moana Beach Park near Waikiki. Music, dances, speeches, and multi-thousands of lanterns are released, each with a personal message, names, or a prayer.
It is a reflective and spectacularly meaningful time for all. Please check the linked areas for dates, times, details, and other information. KGMB will have the live broadcast from the place where the ocean meets the sky (a video link regarding this meaningful event). There is always something happening here in Hawaii! It is diverse with many cultures and past histories.
Let us not forget those who gave us this opportunity to enjoy life to the fullest! Whether it is a new military move, a casual beach house, a downsized retirement home, a golf course fronted resort home-away-from-home, a grand residence with superb view, or a high rise condominium, the choices and the Hawaii Life Real Estate Brokers resources are many. Contact me today with your interests, needs, and desires. I am here.
With warm Aloha, Jeanne.
Note: In Hawaii, there is often a gathering of family and friends, and in a casual way, stories are told of that days happenings, or past events. We call it "Talk Story." My continued series will be about different places around Oahu with a bit of their history, and the many opportunities for you today. I would love to hear about your personal Hawaii memories to share, perhaps during the territorial days, like I was, growing up out Koko Head way. Hawaii is a special place and so are the people. Follow me as we discover a lifestyle best suited for YOU.