Maui
Peaceful Getaway on Maui in Maluhia Country Ranches
Every once in a while, you come across a home as a real estate broker that you have not seen before. 57 Lahaole is one of those properties. Located 8.5 miles outside of Wailuku Town, Maluhia Country Ranches is about as peaceful as Maui gets. The waterfalls, ocean views, and mountains that surround you leave you feeling like you entered the set of Jurassic Park. It's not an understatement to say Kahakuloa feels like another island in itself.
Kahakuloa
Kahakuloa seems more myth than reality. The actual town of Kahakuloa consists of a few local businesses (perhaps the most noticeable is Julia's Banana Bread) and two churches. My favorite part about Kahakuloa is Kahakuloa Head. Legend has it that Kahekili (Mo´i of Maui) started his day by jumping off the 200ft cliffs below Kahakuloa Head. The real estate market in Kahakuloa has seen a steady increase in the median sales price, as you can see from the graph below, the market has seen a 7.3% increase since 2017.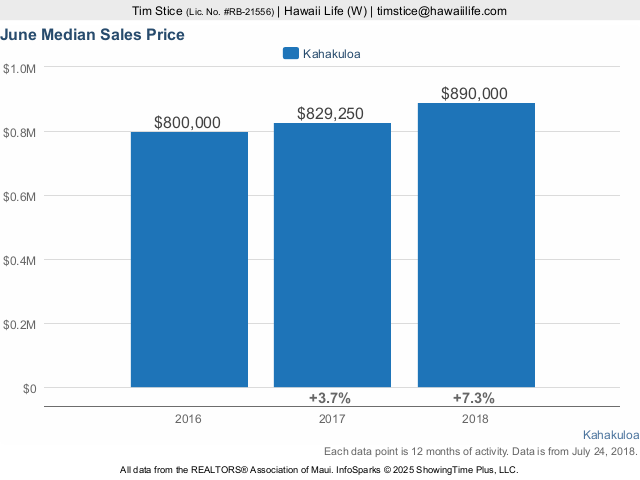 View of Waihee Ridge from 57 Lahaole
Maluhia Country Ranches
Maluhia Country Ranches is a subdivision along Maui's North Shore within Kahakuloa. The neighborhood consists of 52 lots ranging from 2 to 20 acres. The overall elevation within the subdivision can range from 1,000ft to 1,500ft above sea level. According to the University of Hawaii Rainfall Atlas, Maluhia Country Ranches receives 50 inches of rain annually, that's ideal for most agricultural practices. The Kahakuloa Acres Private Water Company provides MCR with water through a private well that is permitted to pump 200,000 gallons a day for residents.
View from the back lanai of 57 Lahaole
57 Lahaole
"Mountain Retreat" is not something you would normally use to describe Maui real estate, but in this context, it couldn't be more accurate. 57 Lahaole was built for views, privacy, and simplicity. The 1 bedroom, 1.5 bath, 1,795 sqft home is centered around spacious design and sturdy materials. Cedar siding and ceilings give the home durability and a nice aroma, other materials used are Brush Box floors, copper gutters, mahagony doors, stainless steel railings and stainless steel appliances. Across the courtyard, you will find a matching 2 car garage that blends in with nature. Beyond the home and garage, you can enjoy the 6.9 acres that encompass 57 Lahaole. Strawberry guava, bamboo, and agave are some of the plantings that cover the landscape and border the nearly 500ft pored concrete driveway. Best of all is the 800+ sqft lanai off the back of the home, you can hear and see waterfalls in the valley below and watch the weather move over the Pacific and Waihee ridge. The views of Haleakala and Central Maui give you a sense of place among the green mountain slopes.
Kitchen and livingroom
Why 57 Lahaole?
In today's world, it's become harder and harder to get away and detach yourself from the distractions of day to day life. 57 Lahaole offers everything you need to relax, unwind and center yourself. The views are second to none and the air is pristine, what's not to love about 57 Lahaole?