Hawaii
Kai Makani: Information and Real Estate Insights
Overview of Kai Makani
Kai Makani is a charming condominium complex located on the north end of Kihei. This quaint condo community stands out with 112 pet-friendly units spread across a lush, ten-acre expanse. Each two- or three-bedroom villa showcases a well-planned design aimed at long-term residents who appreciate the serenity and natural beauty of the surroundings. The residents can access a clubhouse, workout room, barbecue areas, and extra storage space. Some units even offer outstanding ocean-view corridors, amplifying the location just steps away from Sugar Beach's white sands.
The complex is maintained very well, complete with lush gardens and a pristine pool. Residents and visitors can enjoy easy access to Kihei's stunning beaches right across South Kihei Rd, which are known for their golden sands and excellent water activities like swimming, snorkeling, and paddleboarding.
Being located in North Kihei, Kai Makani is strategically situated, making it an ideal base for exploring Maui's attractions, including the upscale resorts of Wailea, shopping in Kahului, and quick access to north and west Maui beaches.
Unit Configurations
In Kai Makani, there are 72 units with two-bedrooms/two-baths and 40 units with three-bedrooms/two-baths, all with spacious lanais. These units range from 811 to 1,238 square feet. With sculpted stucco exteriors, each residence has distinctly Hawaiian architecture and style.
The floor plan below is not to scale or guaranteed. Individual owner modifications may result in differences. For unit-specific confirmation, please feel free to reach out.
What We Love
Kai Makani is simple living at it's best. These units are a great option for full-time residents or folks looking for a "lock and leave" option. The durable stucco exteriors and tile roofs are made for Maui's climate. The proximity to Mai Poina Beach Park really sets this complex apart from other developments.
What We Could Do Without
This location can be quite windy. Mid-morning through the afternoon can clear the beach pretty quickly. If you're into wind sports, midday at Mai Poina Beach is a happening place.
Onsite Amenities
Swimming Pool
Hot Tub / Spa
Clubhouse
Workout Room
Barbecue Areas
Recreation Area
Nearby Amenities
Some of the most well-known Maui golf courses are only around the corner. If shopping is your favorite pastime, The Shops at Wailea's offers extensive options. Not to mention the proximity to some of Kihei's great beaches (Cove Beach Park, Charley Young Beach, and Kamaole Beach 1, 2, and 3)
Kai Makani Sales Statistics
Please feel free to reach out directly for active listings, pending sales, specific sales data, current price opinions, or any other data.
The report below is real-time data sourced from the Realtors Association of Maui. The statistics include Kai Makani's average sales price and average price per square foot. These graphs will update automatically with the most recent data.
 2 Bedroom

3 Bedroom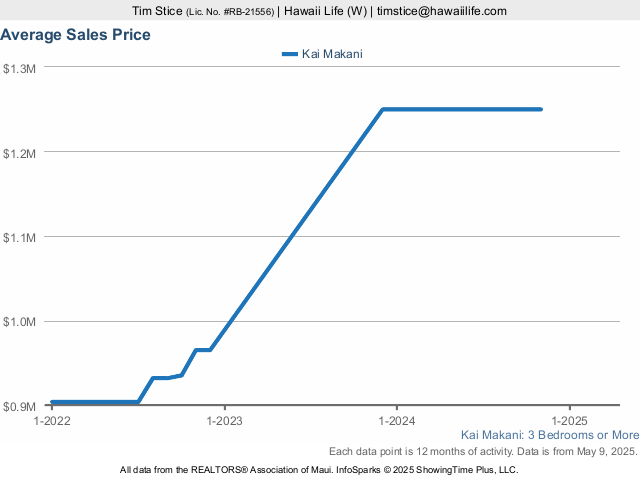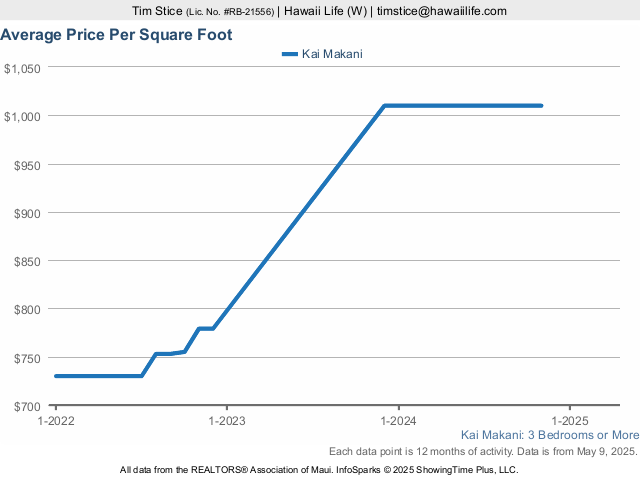 Association Information
This is a pet-friendly condominium. For the latest HOA fees and information, please call or email me. This information is subject to frequent changes.
Here are the Association rules and information.
Primary Uses
Long Term Rental
Long-term rentals are considered six months or longer here in Maui. This option does make it difficult to use the unit for owner stays, but it can help offset the cost of ownership.
Second Home
If your goal is not to maximize your ROI and simply use the unit as you please, you can do so. You would pay the highest and best use for real property tax.
Owner Occupant
If Maui is where you want to call home, the owner-occupant is the one for you. If you spend 270 days out of the year on Maui and your unit is your primary residence, then you can apply for the Owner Occupant exemption (frequently asked questions)
Zoning
The zoning for Kai Makani is Apartment. As per Maui County Rules, vacation rentals are not permitted. The association requires a minimum stay of 6 months for home rental.
Taxes
Taxes to consider when owning at Kai Makani:
Real Property Tax (This rate will change depending on your use. You may fall under short-term vacation rental, long-term rental, or the base zoning if your unit is an empty second home or owner occupied)
Weather
Helpful Weather Resources:

I love what I do and I'm here to offer my clients outstanding service. My team and I have seen almost every scenario imaginable (at least, we'd like to think). Through solution-based problem-solving, transparent communication, and unrivaled market knowledge, we have successfully navigated over a half billion in closed transactions. We care about our clients and are eager to earn the title of your real estate representative.
Give me a call or shoot me an email.
Tim Stice | 808.268.8511 | timstice@hawaiilife.com