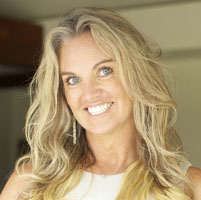 5-4280 Kuhio Highway Suite G203
Princeville, HI 96722
As Hawaii Life's 2011 top-selling broker and a member of the 'Top 100 Hawaii Realtors' in Hawaii Business magazine for three years running, Roni Marley has quickly etched out her position amongst the upper echelon of Hawaii real estate. Being a full service Realtor with Hawaii Life, she specializes in discrete, high-end sales, has earned the professional designation of Broker, e-PRO, and is Short Sale and Foreclosure Certified. As adaptable as she is vivacious, Roni is no stranger to complex dealings and has closed on transactions from $23,000 to $22 million.
Born and raised in northern Idaho, Roni studied accounting at Arizona State University and soon thereafter moved to Kauai, in 1990. A born entrepreneur, she put her gift for numbers to work and has since owned and operated several successful island businesses, including the current Island Professional Billing, a medical billing company for private physicians.
Having purchased her first Kauai property in 1993, she decided to make a career out of her passion for both Kauai and real estate. Starting with Coldwell Banker Bali Hai Realty, she immediately proved her success as an agent with a string of sales and in early 2011, seeing how their dominant SEO (search engine optimization) presence and advanced operating technology would allow her clients' listings to gain maximum exposure, she joined Hawaii Life.
Having spent time in Egypt, Dubai, Oman, Europe, Japan, New Zealand, Australia and Brazil (to name a few), she's working to extend her savvy to a global level, while maintaining her foundation in the Hawaiian Islands.
Credentials and Professional Affiliations
Top 100 Realtors, Hawai`i Business Magazine 2010, 2011, 2012 Coldwell Banker President's Circle Honor Broker & Realtor, Hawai`i Life Real Estate Short Sale and Foreclosure Certified National Association of Realtors Hawai`i Association of Realtors Kaua`i Chamber of Commerce
Specialties
Luxury Homes Resort and Second Homes Investment Properties
Press:
Read these articles in The Wall Street Journal and the Pacific Business News about Roni's listing, the Valley House Estate
Read this article in the The Business Journal about Roni's upcoming auction on September 20th
View a Blog about Roni and the Hawaii Life Worthshop #2
Social Media:
Blog Posts
Recent Sales25/$37.5m

$500k

Kapaa

May 2015 (s)

$469k

Kapaa

Apr 2015 (s)

$515k

Kapaa

Apr 2015 (s)

$2.6m

Princeville

Jan 2015 (s)

$499k

Kalaheo

Nov 2014 (s)

$455k

Kilauea

Oct 2014 (b)

$1.9m

Hanalei

Jun 2014 (b)

$6.0m

Kilauea

Apr 2014 (s)

$2.4m

Koloa

Mar 2014 (b)

$1.2m

Kilauea

Feb 2014 (s) (b)

$213k

Kapaa

Jan 2014 (s)

$185k

Kapaa

Oct 2013 (b)

$1.2m

Princeville

Aug 2013 (s)

$839k

Princeville

Aug 2013 (b)

$190k

Jun 2013 (s) (b)

$455k

Jun 2013 (b)

$385k

May 2013 (b)

$1.3m

Mar 2013 (b)

$25k

Feb 2013 (b)

$3.1m

Jan 2013 (b)

$969k

Jan 2013 (s)

$2.7m

Dec 2012 (s)

$3.8m

Sep 2012 (s)

$3.8m

Sep 2012 (s)

$400k

Aug 2012 (b)
Roni Marley
UA-3679744-1
crawled:20150706 072137 271ms