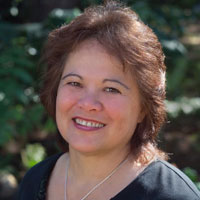 Lucy Aulani Clark is a native Hawaiian, born and raised in Kailua on the island of O'ahu, to a very old kama'aina family. Lucy's grandfather and father were political leaders prior to and after Hawaii became the 50th state, so she knows a little bit about what it means to "live Hawaii." After 20 + years working in escrow on Oahu, (with ventures into commercial and residential leasing) Lucy followed her intuition into real estate sales and to the Big Island, a place she cherished from family vacations in Volcano as a child. Currently Lucy lives in upcountry Waimea, where she specializes in helping clients find the best location to suit their lifestyle - a task to which she is particularly well-suited given her wealth of personal knowledge and lifelong experience regarding island culture, business, variable climates, and community life. Malama ka 'aina (to take care of the land) is a part of Lucy's heart and soul - in her "free" time she thoroughly enjoys working with native plants, hiking "secret" trails throughout the island, and collecting pohaku (stones) from around the world. Perhaps Lucy can best explain why it is permissible to bring stones from other places TO the Big Island, but very bad luck to carry lava away from our beautiful island home!
No Listings at this time.
No Sales at this time.
Lucy Clark
UA-3679744-1
crawled:20141001 071953 238ms